Electric Daisy Carnival Las Vegas
Under the electric sky we come together to celebrate life, love, art and music. From the stage and the sound to the pyrotechnics and the performers. So many unique elements go into this world to life…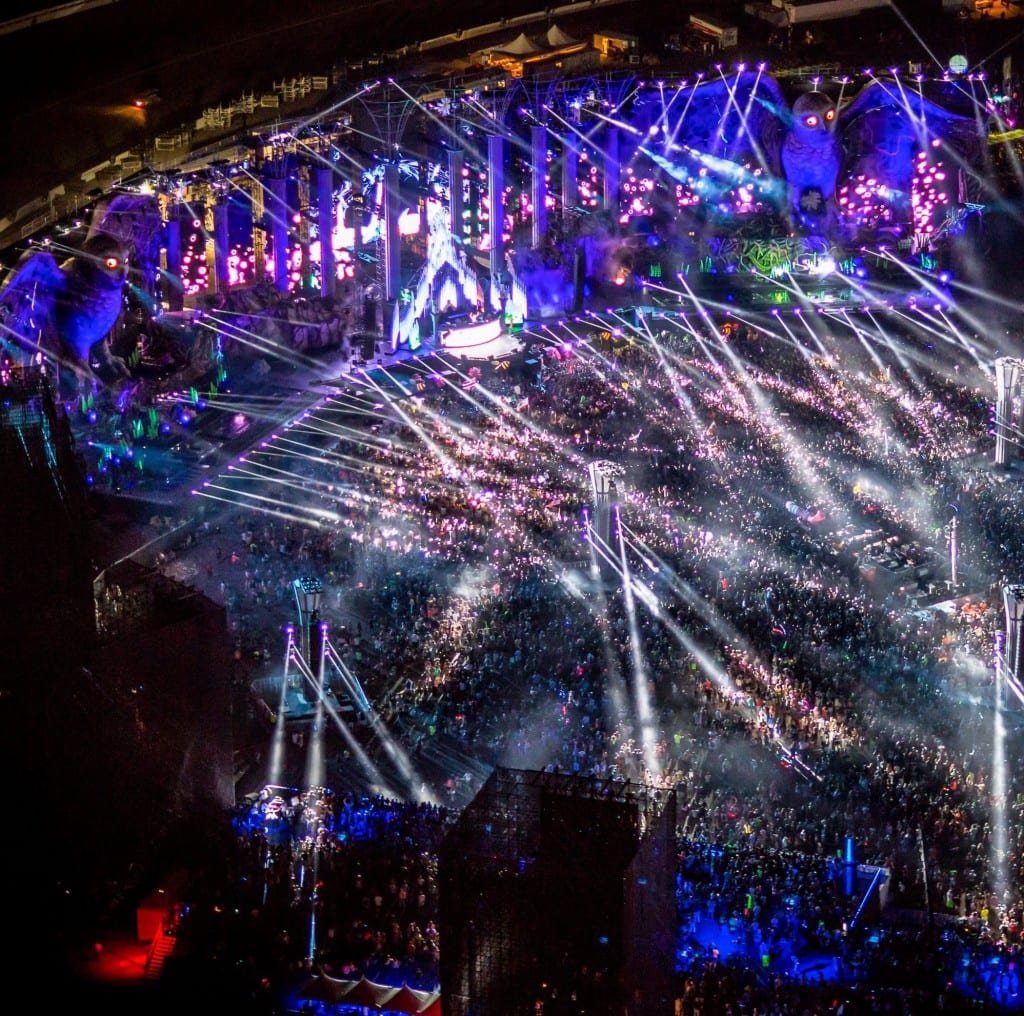 " Electric Daisy Carnival " is the largest dance Music festival in North America and currently takes place in Mexico –Florida and Japan as well. " EDC " is an unique multi days festival pushing the boundaries of imagination and setting standards in the live entertainment industry. By incorporating carnival themes and attractions cutting edge stage production, world class talent and innovative art and technology. Easily one of the craziest Electric Daisy Carnival festival you will ever experience. " EDC " take place in " Las Vegas " a city which needs no further introduction. A huge rave with top Djs and EDM artists. This festival is three-day of pure dancing and partying. Electric Daisy Carnival is more than an electronic music festival. It is an unparalleled multi-sensory experience unlike any other. The brand has created a passionate community of accepting fans that have turned " EDC " into a way of life. The foundation upon which the phenomenon was built is one of unity, love, expressions and respect for one another.
EDC was created with the purpose of utilizing music and art to inspire individuals experience three dimensional superstrates colorful glow in the dark environments and LED infuses flora and variety of both trilling and relaxing carnival rides. The goal is ultimately for EDC to be a place where people can connect on and offer the dance floor. The EDC events have been held in other states and abroad, currently EDC held annually main in Las Vegas.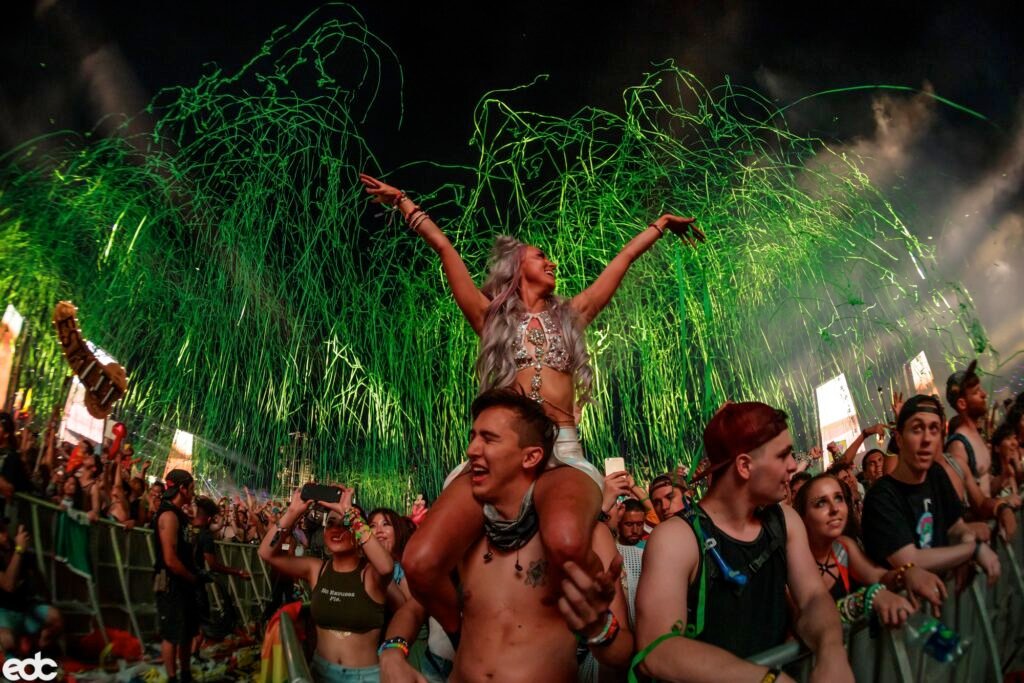 The very first " EDC " was held in 1991 and was first organized by " Stephen Hauptfuhr, Phillip Blain, Pasquale's Partner " made the deal to grant use of the name EDC in 1995 to " Pasqualle Rotella " CEO of Insomniac events. EDC kinetic cathedral stood at a cool 440 feet wide about 80 feet longer than the twice length of a 65 passenger school bus. Twice as big as u2's world renowned "360" stage. Which previously held the record and almost six times as big as Pink Floyd's " The Wall Tour's Stage " , EDC's record is force to be reckoned with the stage also featured 28 LED displays and 1:000 light fixtures and 30 lasers, requiring q total of 2.5 million watts of power to function. From huge book shelves to massive volcanos to gigantic owls. EDM festival have been getting bigger and better and it's awesome.
Not only Music, in " EDC " festival you can join with " EDC Camp " also. There are three types of camps you can enjoy. You can select a one from them.
Moon Glow Shift Pod Camping
Desert Rose Shift Pod Camping
RV Camping
The camp of " EDC " experience returns to Vegas. Campers can look forward to shorter wait times on arrival a stronger power grid. More bathrooms, showers, improved site layout, way finding, new activities and more. And also camp EDC passes do not include festival passes all campers must have an EDC Las Vegas festival pass in order to be admitted into the campground.
Moon Glow Shift Pod Camping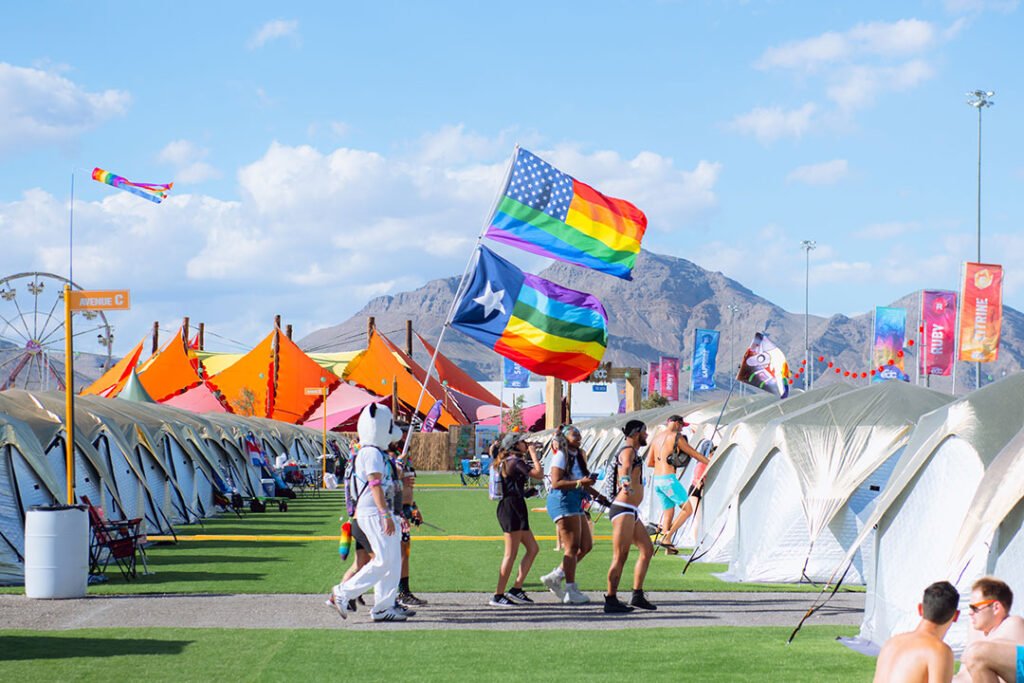 Moon Glow Camping comes with pre-setup shift pod two tents for up four people. All you need are your bedding, personal items and two travel locks for your shift pod 2.
Dessert Rose Shift Pod Camping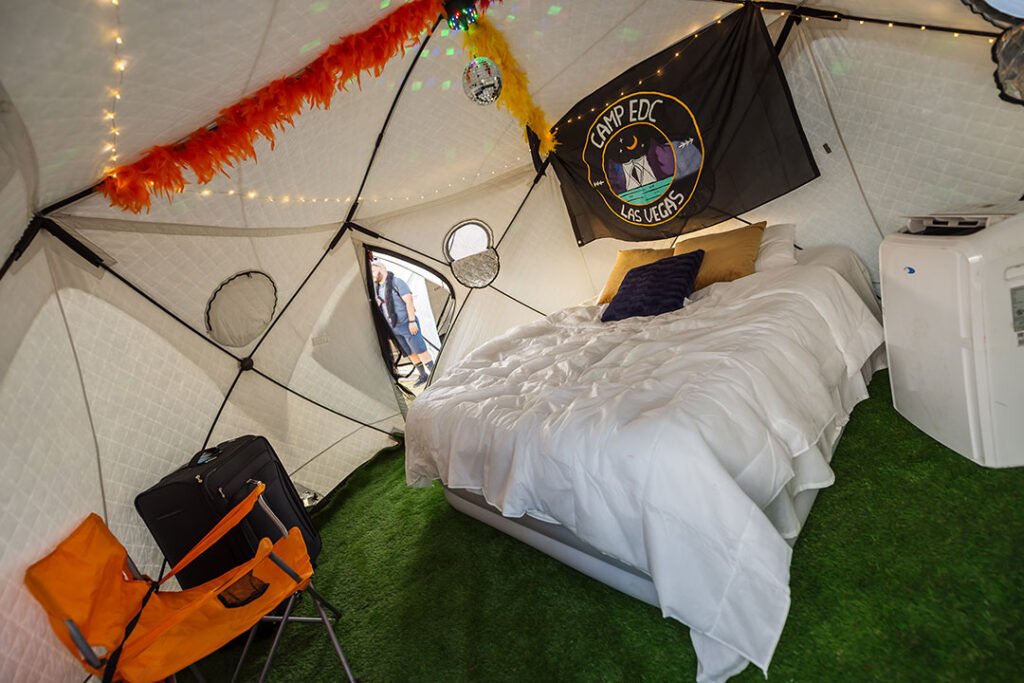 Only one camp EDC pass is needed per " Dessert Rose Shift Pod " ( for up to two people). No need for each camper to buy an individual pass. The Dessert Rose premium camping package offers a spacious shift pod for two people with air mattresses and linens provided. All you need are your personal items and two travel lock for your shift pod.
RV Camping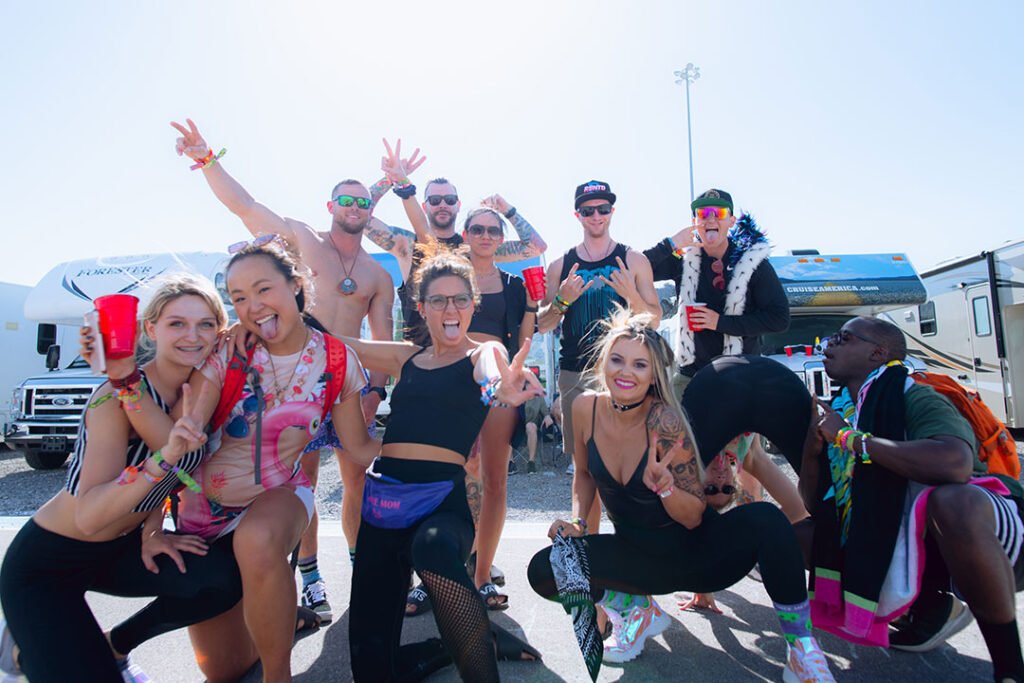 Drive your own RV on site camp EDC offers a power hookup. RV water refills and pump-outs for an extra charge. RV groups will be limited to the vehicle's specified sleeping capacity up to maximum eight people per RV site.
As we all know at the heart of the camp EDC lies the " Mesa " a bustling hub of entertainment activities and amenities that campers can enjoy and take part in all weekend long from day time pool parties, to curated guest speaker series to group classes that exercise your mind, body and spirit.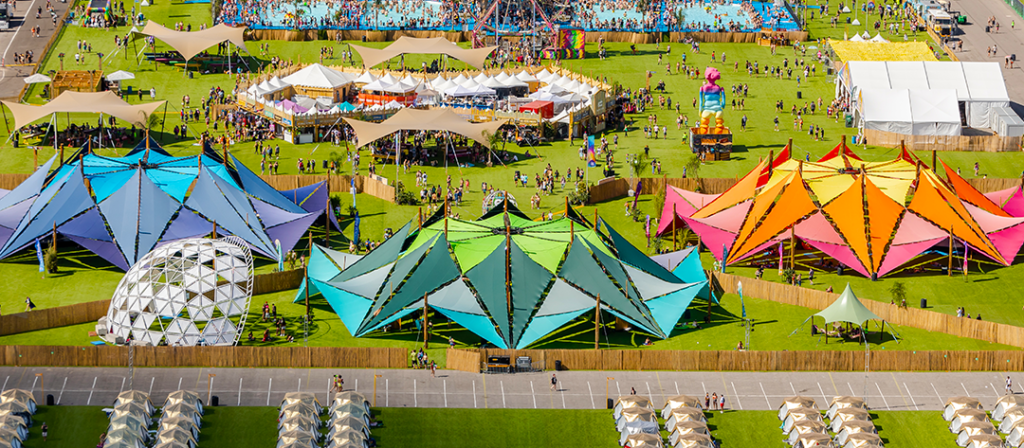 Campers will have access to the night kickoff party on the " Mesa " featuring surprise DJ sets when you camp under the " Electric Sky " the EDC experience never ends.
But it was announced that the 2020 festival would utilize more of the Las Vegas motor speedy way grounds with Rotelle pointing out that the speedy way had removed a large number of RV hookups that had made certain areas of the area unusable. The festival was originally scheduled to take place from May 15-17, but was re scheduled for October 2-4. However, in July 2020 the festival was cancelled due to Covid-19 pandemic.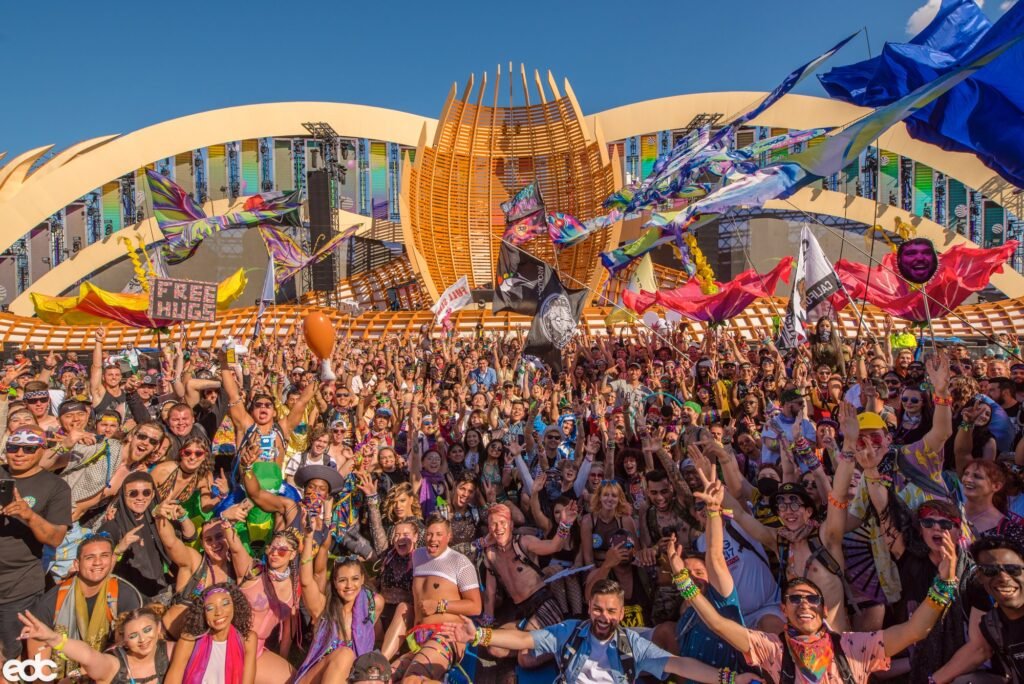 EDC Las Vegas is scheduled to take place from 22-24 while the event was originally scheduled to be held from May 21-23 on April 20 passed a reopening plan that requires 60% of their residents to be vaccinated before restrictions over large scale gathering such as " EDC " can be lifted. In a statement released on social media, " Insomniac " events CEO Pasquale Rotella stated that "Unfortunately the rate at which people get vaccinated before EDC is out of our control. It might happen in time. It might not, either way we can't take that risk."
Overall the camping experience is unique. You would not trade it for the world. The most beneficial feature is the time and money saved by eliminating travel to and from the festival. Keep in mind, there are many comforts and luxuries that you forfeit when you choose to camp as opposed to booking a hotel. Be sure you are fit for the challenges of shared restrooms and limited food options. Camp " Electric Daisy carnival " is hells fun and the feel of the community is awesome.
Join With EDC
Oct 22-24, 2021
Las Vegas, NV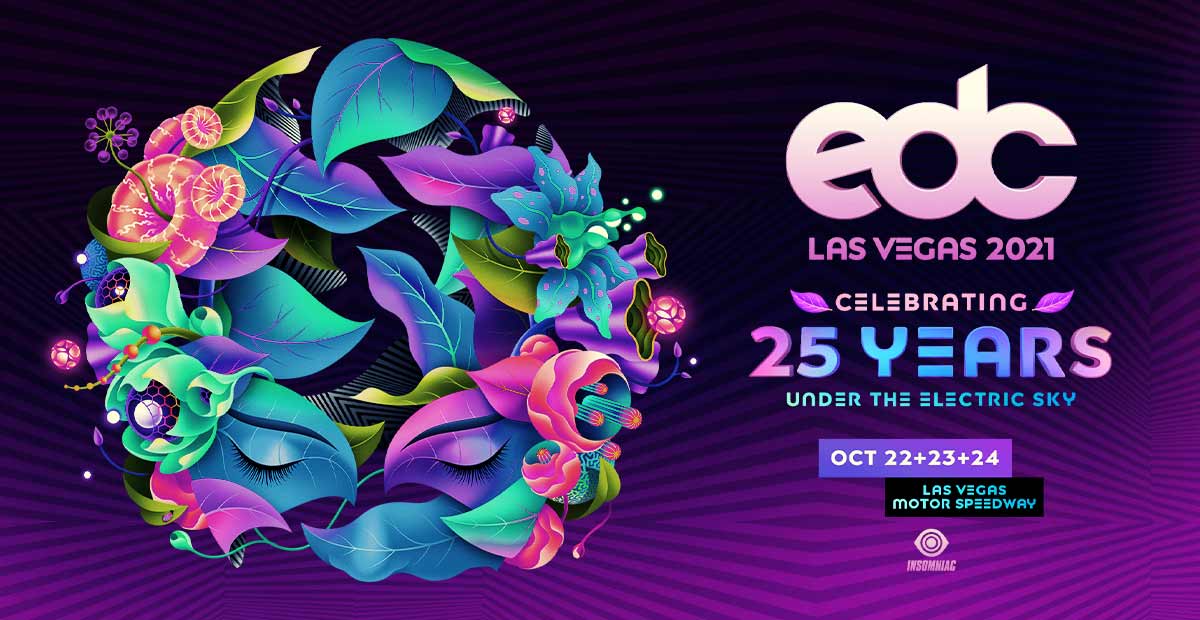 EDC Las Vegas | October 22-24, 2021 | Las Vegas Motor Speedway
Buy tickets to the festival, get camping info, learn all about EDC Las Vegas, and explore the world of Electric Daisy Carnival—the music, the rides, and the art.
lasvegas.electricdaisycarnival.com
---