Clam Chowder
Soup season has come and gone, but a bowl of " Clam chowder ". it is actually can really be eaten in any kind of weather, especially when it comes to the home – made version.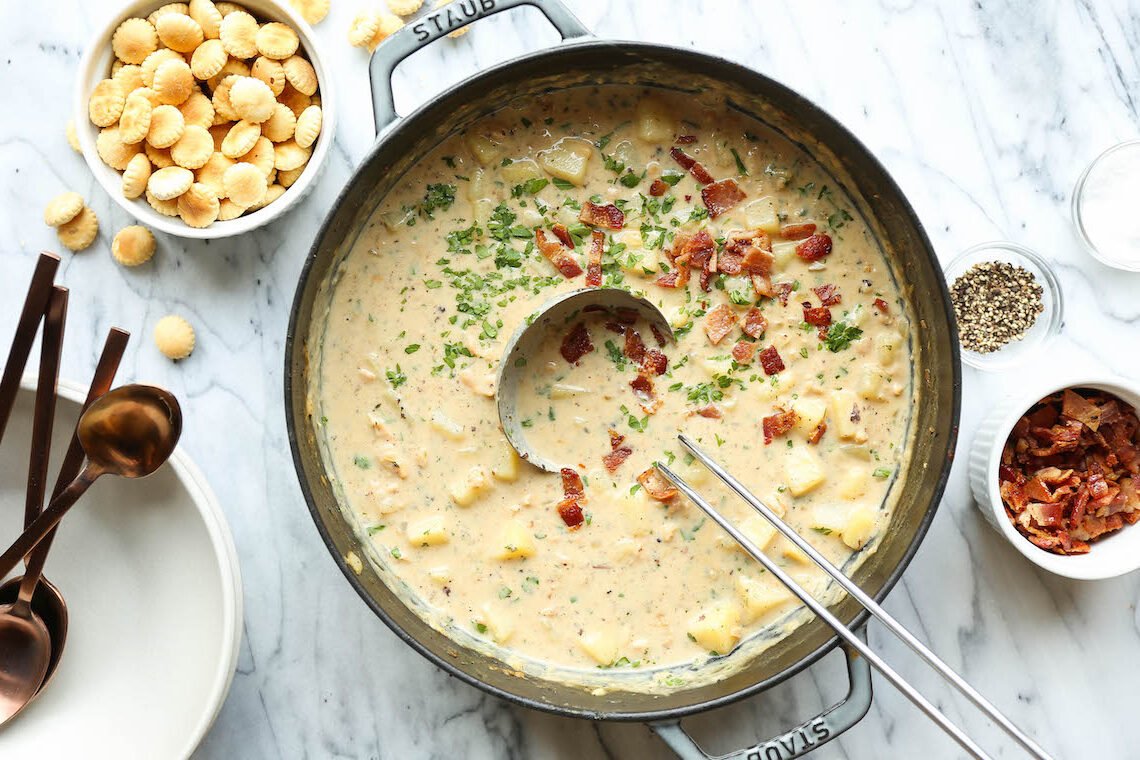 Origin of Clam Chowder
It's a kind of soup which can prepare very easier than you think. The recipe of the " Clam Chowder " spread throughout the United States in 19th and 20th centuries. This is any several Clam Chowder soups in " American " cuisine containing " Clam ". In addition to clean the other ingredients include diced potatoes, Salt Pork and Onions. Other vegetables are not used. " Clam Chowder " dish originated in the " Northern United States". This is now commonly served in restaurant throughout the country. " Clam Chowder " was regionally developed variants have arisen.
01. Manhattan Clam Chowder
It has a reddish color because tomatoes. It's a tomato based broth. In presence " Manhattan " Clam Chowder style often contains other vegetables, such as adding Celery and carrot to include a Mirepoix.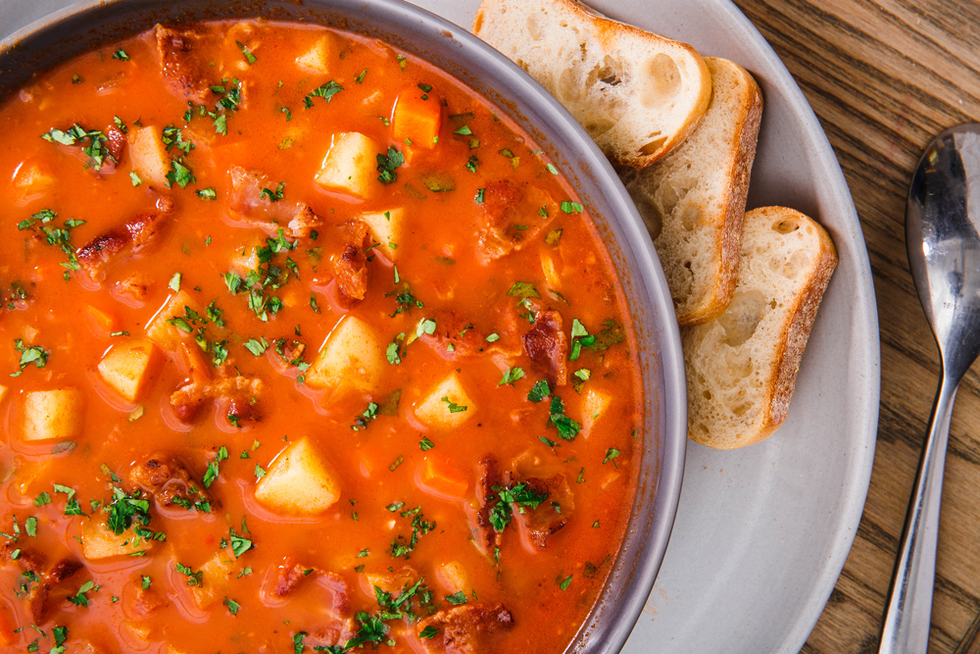 02. New England Clam Chowder
This Clam Chowder occasionally referred to as Boston or Boston Style Clam Chowder. It's a milk or cream based Chowder and it's often a thicker consistency than other regional styles. It's commonly made with milk, butter, potatoes, salt pork, onion and clams.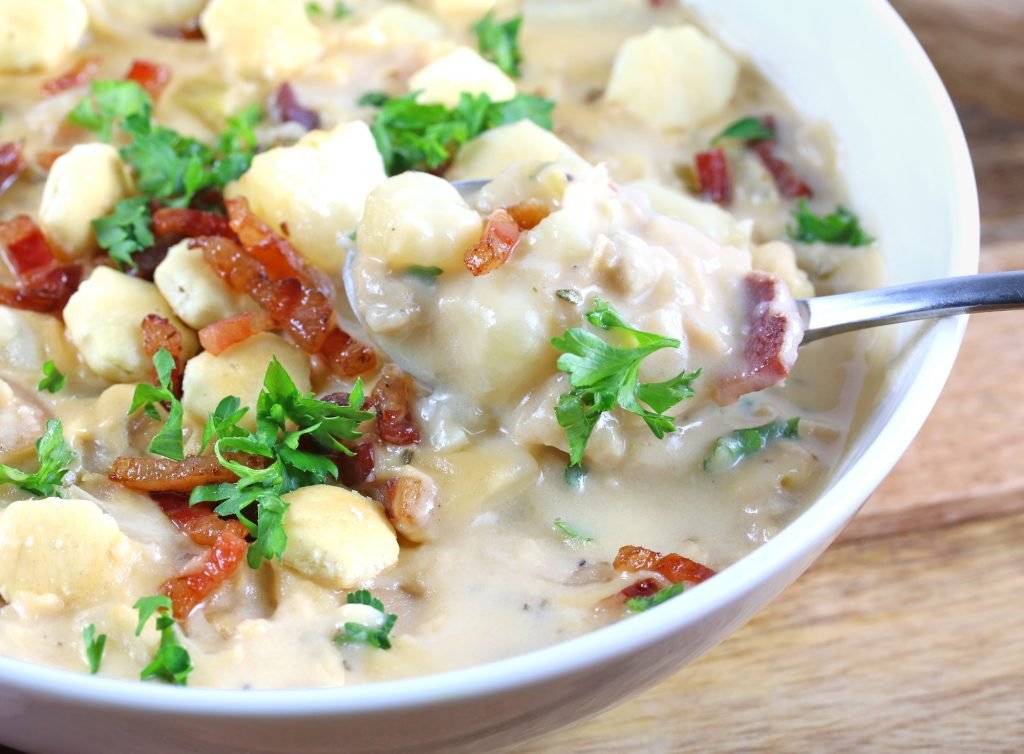 Let's see about the Nutrition Facts of Clam Chowder…
This food contains mainly Calories, Proteins, Carbohydrates, Fat, Cholesterol, Sodium, Calcium, Vitamins and Dietary Fiber and etc.
If you didn't know to prepare " Clam Chowder ", it is actually a very simple soup to prepare with few pantry ingredients.
Recipe
Required Things:

3 Cans Minced Clam
1 Cup of Minced Onions
2 Cloves Garlic, Minced
2 Cups of Diced Potatoes
1 Cup of Diced Carrots
¾ Cup of Un Salted Butter
¾ Cup of All-purpose Flour
4 Slices of Bacon, Diced
1 Cup of Milk
½ Spoon of Salt
Ground Black Pepper to taste

Direction:
In first we should Heat a large stockpot or Dutch Oven over medium high heat. Add bacon and cook until brown and crispy at about 6-8 minutes. Transfer to a paper towel lined plate and set aside. Then melt butter in a stockpot and add garlic and onion and cook. Stirring frequently until onions have become translucent at about 2-3 minutes. Stir it in thyme until fragrant at about 1 minute. Whisk in flour until lightly brown about 1 minute and gradually whisk in milk and add vegetables like potatoes and carrots and clam juice to it and cook it. Whisk it constantly it until slightly thickened about 1-2 minutes. Bring it to a boil reduce heat and simmer until potatoes and carrots are tender at about 12-15 minutes. Stir it half and half and calms until heated through about 1-2 minutes. season with salt and pepper to taste. After all, garnish it with bacon and parsley and serve the " Clam Chowder " immediately.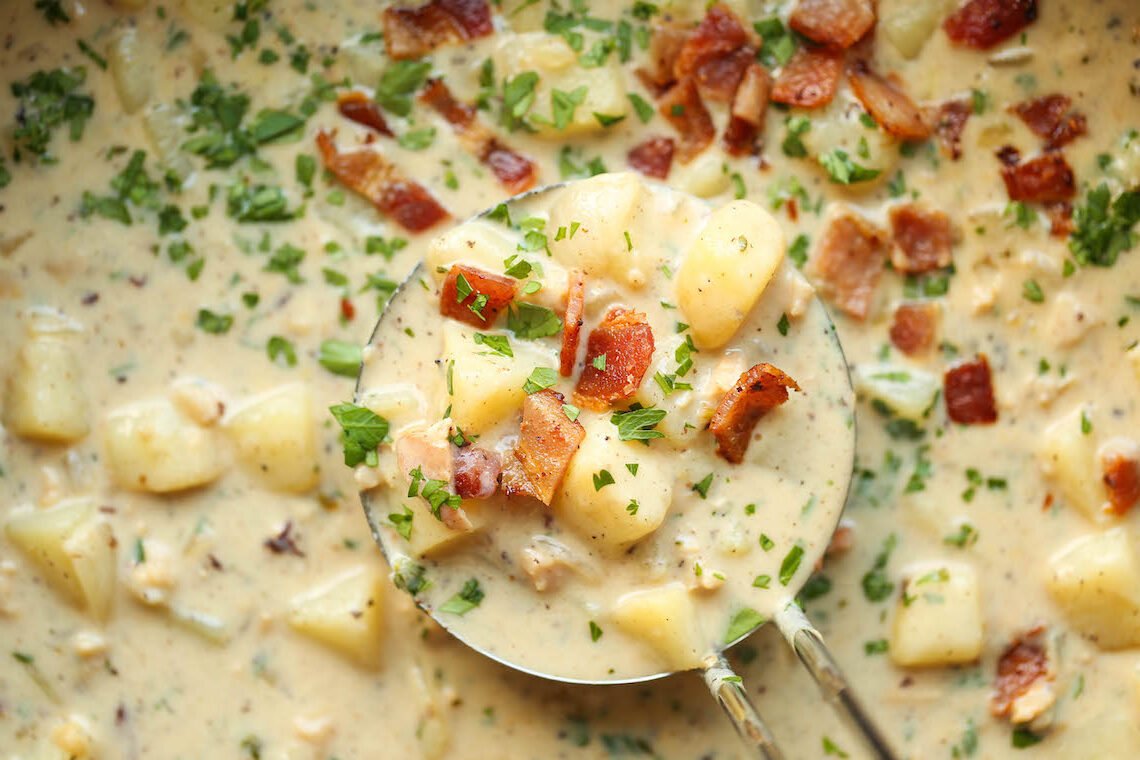 Clam Chowder is easier to man homemade version is Unbelievably Creamy Flavorful and Chockfull of Clams. You will love about the recipe because this " Clam Chowder " is guaranteed to disappear from your dinner table.
---