Sprinter Sha'Carri Richardson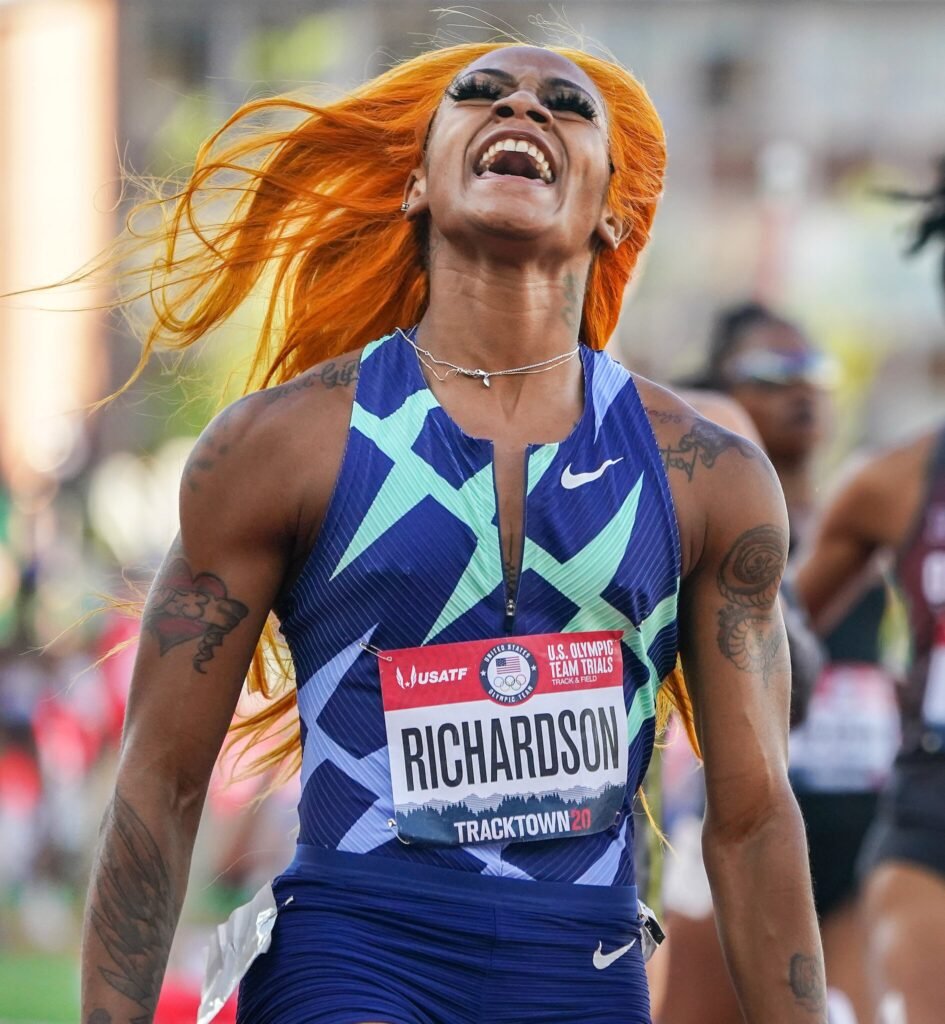 Latest news in USA was " Sha'Carri Richardson " left off " US " Olympic. What's the reason?
Sha'Carri Richardson's whirlwind summer won't include in to a trip to " Olympic ". USA track and field officials announced that Richardson won't be added to the women's 4×100-meter relay team in Tokyo. Richardson is the top " American " sprinter in the women's 100 meters. Lost her individual spot on the U.S. team on 2nd of July after testing positive for THC. (The active agent in marijuana) at the Olympic trials last month.
Richardson said that :
" This is just one games, I'm 21. I'm very young unlike most, I have plenty of games left in me to compete in because I have plenty of talent that backs me up because everything I do comes to me naturally. No steroid, No anything."
Who is this Sha'Carri Richardson ?
She is an American track and field sprinter who competes in the 100 meters and 200 meters. Sha'Carri Richardson was born in 25th of March 2000 in USA. Richardson rose to fame in 2019 as a freshman at Louisiana State University and running 10.75 seconds to break the 100 meters record at the " National Collegiate Athletic Association " championships. This winning time made her one of the ten fastest women in history at 19 years of age.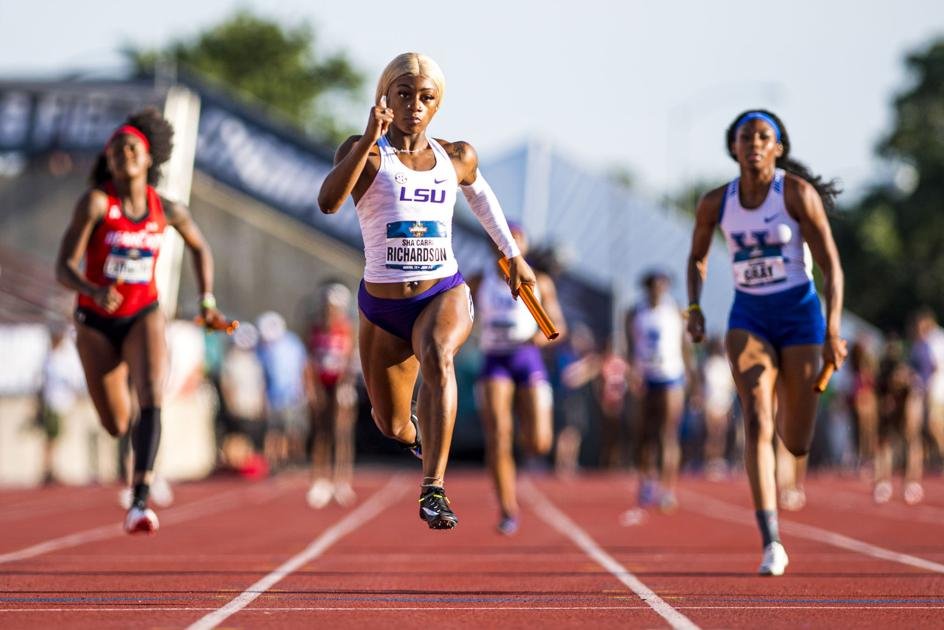 " Richardson " ran a new personal best 10.27 second in April of 2021. Becoming the six fastest woman of all time and the fourth fastest American woman in history. She qualified for the 2020 summer Olympic after winning the winning the women's 100 meters dash with 10.86 in the United States Olympic trials.
National titles
USA Outdoor Track and Field Championship
100 meters 2021
NCAA Division I Women's Outdoor Track and Field Championships
100 meters 2019
AAU Junior Olympics
100 meters 2016 and 2017
At the 2019 NCAA Division I Outdoor Track and Field Championships she won the 100 meters and placed runner-up in the 200 meters by less than one hundredth of a second both her times were world under 20 records for the sprints. Her NCAA performance which also included second in the 4×100 meters' relay was the second best ever by a female sprinter. As a teenager, Richardson won the 100 meters' title at the AAU junior Olympics in 2016. Then another title at the USATF junior championships in 2017. She made her international debut at the 2017 pan American U 20 athletics championships where she won a gold medal in the 4 ×100-meter relay alongside Gabriele Cunningham, Rebekah Smith and Tara Davis.
" Sha'Carri Richardson " was raised by her grandmother Betty and her aunt. The context of her relationship with her biological mother is unknown but she previously told reporters her family dynamic is a very confusing and sensitive topic.
In which reason she used marijuana?
" Richardson " thirty days suspension through the US Anti-Doping Agency backdated to 28th June and will end before track and field events starts in Tokyo. It means she couldn't have been available for the relay heats 05-06 of August. Her positive test result negated her trials performance and U.S. team selection. In a statement USATF said it was incredibly sympathetic towards Sha'Carri Richardson's extenuating circumstances and fully agrees. That international rule regarding marijuana should be reevaluated. So while our heartfelt understanding lies with " Sha'Carri " we must also maintain fairness for all of the athletes who attempted to realize their dreams by securing a place on the U.S. Olympic track and field team.
There's no good evidence that marijuana enhances a sprinter's ability to compete-pot, after all is not exactly known for making people faster or more energetic. As a founder of the world Anti-Doping Agency to inclusion as a banned substance was rooted in the fact that it was in the Washington post, marijuana's inclusion as a banned substance was rooted in the fact that it was and still is illegal in much of the world. " Sha'Carri's " situation is incredibly unfortunate and devastating for everyone involved " USA " Track and Field wrote in a statement Friday. " Athlete health and well-being continue to be one of USATF's most critical priorities and well work with Richardson to ensure she has ample resources to overcome any mental health challenges now and in the future. " further more Sha' Carri said of her mother " I am very grateful for her giving me life and bringing me in to this world. " the 21 year old revealed her mother had passed away just a few days before she won the 100 meters race at the Olympic trials on 19th June and saying she used marijuana to cope with the news of her biological mother's death.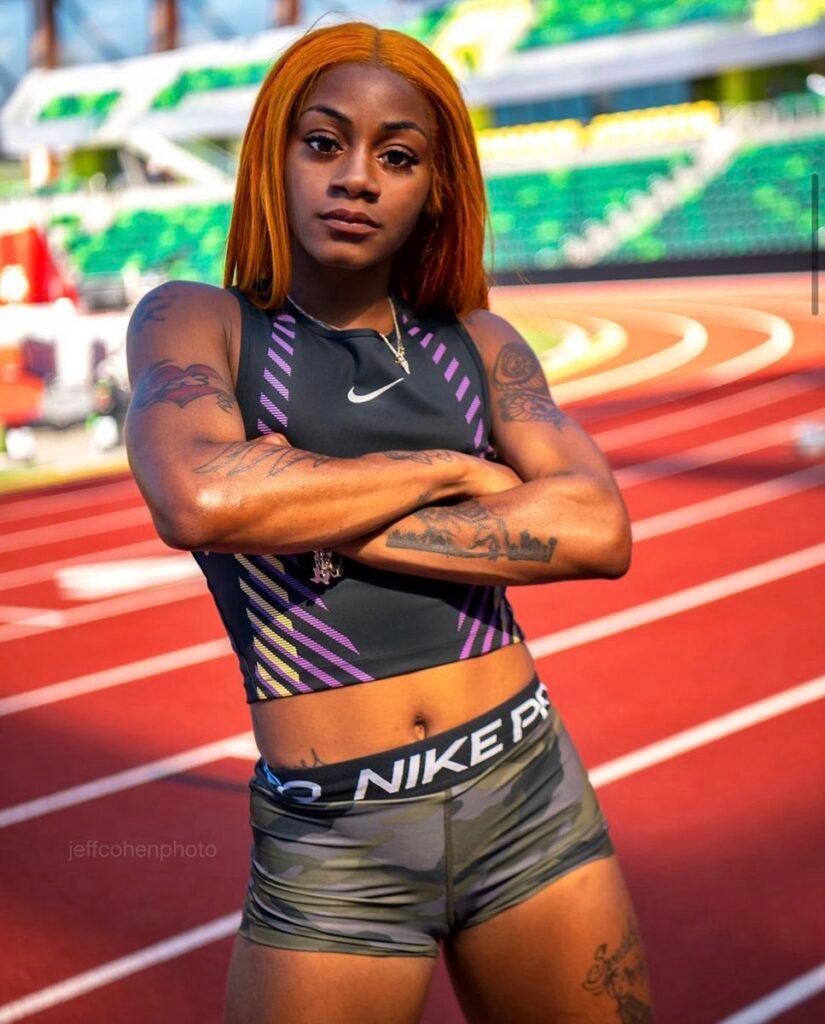 Richardson emerged as a star to watch after her showing at the trials. Endearing fans with her eye-catching orange hair, long finger nails, nose rings and tattoos. She also went viral in a heartwarming moment when she sprinted up the stand to embrace her grandmother in celebration of her performance while " Richardson " can no longer compete in other races. That, however is not on her mind.
It really can't be understanding how quickly views around marijuana have changed in such a short time. One decade ago marijuana wasn't legal anywhere in the world not even in the USA, which takes a soft approach to marijuana but technically still prohibit it. Some sports leagues reflect this change, with the NFL and MLB relaxing punishments for athletes who test positive for the drug. But while the Olympic and the WADA have raised the banned threshold for marijuana to genuine high levels. It is still suspending athletes who surpass that limit and the marijuana was the ninth most flagged drug in 2019.
It is in this context that many Americans and their athletes over marijuana as absurd. The reaction however, hints at a potential sign of hope. While " Richardson " is the latest victim of the war on marijuana, she may soon be among it's last. Because with the pace of change happening around the world regarding cannabis. It seems a historical footnote. A reflection of an era gone by when the world tried an overly punitive approach to a relatively harmless drug.
"Don't judge me, because I am human, I'm you. I just happen to run a little faster."

Sha'Carri Richardson
---